When I'm not writing articles about jerseys, trying to get leaks on new jersey, or wearing jerseys, I spend most of my free time scouring the interwebs looking for more jerseys. Here's what I found worthwhile this week.
1. Family Feud
I see six family members and five different team jerseys. I've heard of a house divided, but this is ridiculous.
All the family ready for the Super Bowl, let's have it #SuperBowl #jerseys pic.twitter.com/g7oR2Jrpb1

— Nick Reynolds (@nickreynolds96) February 2, 2014
2. Patriotic Chiefs Fans
Want to know why we call you the Chefs? Well, yes partly because of the Snickers commercial, but also because you got 9-11 God Bless America backwards. I'm not a fan of customized jerseys, but if you're going to do it, at least get it right!
@bobfescoe @joshklingler shouldn't the names be switched? #chiefs #jerseys pic.twitter.com/wfs38JPMvd

— Daddy Fresh (@Daddy__Fresh) August 17, 2013
3. Unicorns
No, this is not a problem only guys should have. Be proud Jamie, be very proud!
4. Spring Training is Back
I wonder if this jersey modification will come back this year. I would bet yes, but just to be sure, can someone get me Pete Rose on the phone?
https://twitter.com/RickeyH35/status/360189326044323840
5. Not So Fast My Friend
This guy probably wishes he'd saved a few bucks instead of ordering this shirsey since Granger just got bought out after his trade.
https://twitter.com/EbenezerSpooge8/status/437644962793283584
6. Unicorns, Hoopsters, and…Jersimals?
I don't have a name for animals wearing jerseys, but I guess we could start that. Here's Buffalo Sabres goalie Ryan Miller dressing his dogs up.
#USA #MillerTime RT @PuckMiller3039 So much team spirit flowing in the Miller household pic.twitter.com/ch7lOBO7pT

— Buffalo Sabres (@BuffaloSabres) February 16, 2014
7. Unicorns in Soccer Jerseys
Come summer this could be huge. Any unicorns out there love soccer?
#WORLDCUP TICKETS: The 2nd sales phase has begun, apply for tickets until 30 January 2014 – http://t.co/DXif8x6PE4 pic.twitter.com/TzpEjcs8e3

— FIFA.com (@FIFAcom) December 8, 2013
8. Cleveland…'Nuff Said
A+ for these two unicorns, except the faces they're making are the same as the faces every Cleveland fan makes, all the time.
[Image
via
]
9. Taco Pants
Taco! Burrito! What's that coming out of your speedo? Tom Brady Michigan TacoPants jersey. NOT Jersey Czar approved!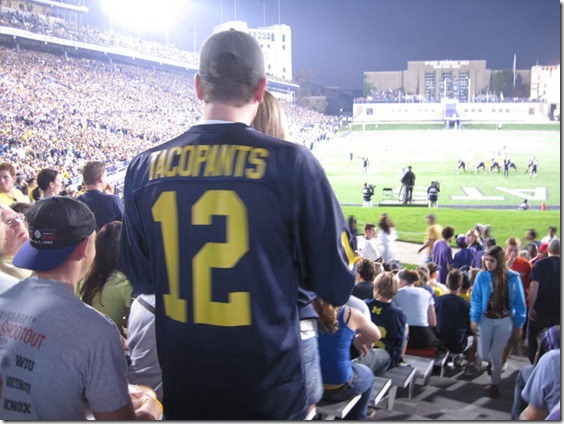 [Image
via
]
10. The Future of the Random Jersey
Congrats to Jason Collins, and I can see his #98 becoming a big #randomjersey many years down the road.
[Image
via
] [related-posts]